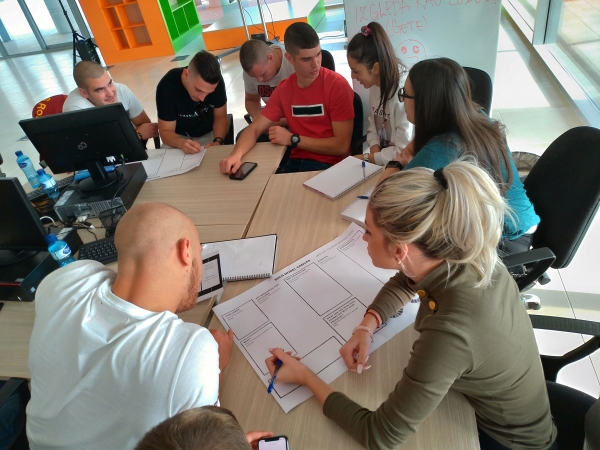 UDG team create Feasibility study - the Printing house Crnojević
Thursday, January 16th, 2020.
UDG and ProDe staff created Feasibility study for the needs of defining the space for the design and replica of the first Printing house in the Balkans – the Crnojević Printing house. Project has been granted by Ministry of Sustainable Development and Tourism of Montenegro
The aim of the Study is to present, in addition to the visual, the innovation of the product, the entrepreneurial-practical aspect, which is especially attractive to younger generations.define the The primary goals is to define space and make the replica of the first printing house in the Balkans – the Crnojević Printing house, it deals with the much wider concept of promotion, but also proposes a full realization of the innovative potential of the printing press, through the idea of the museum that produces it.
The focus of this study is the identification of clear products based on the cultural and historical heritage, ie tourist offer of Montenegro.
In order to offer domestic and foreign visitors a unique experience within the artistic and contemporary experience, this study envisages the creation of innovative content through new technologies, Virtual reality (virtual reality VR). The goal of creating the conceptual solution of the replica, conceived in this way, is the desire to popularize the visibility of the first state printing house in the world, through the analysis and creation of a multifunctional space that directs the user to the interactive use of space.
In this context, the "Feasibility study for the construction of a replica of the first printing house in the Balkans – the Crnojević printing house" aims at examining the printing through a time dimension, i.e. reviewing the context of the printing press from the aspect of the past, the present and the future perspective of events and potential opportunities:
Selecting the location - research in the domain of functionality, aesthetics and symbolic values of the visual identity of the Crnojević Printing House.
Analyzing the conceptual design of interior and furnishing space - an impression of authenticity, which provides an atmosphere in which all users can engage in the printing process.
Creating a virtual reality - where a particular topic is placed in the context of a particular place and time, with the incentive to take a holistic approach, to examine the time, circumstances, territory, and certain phenomena in it.
Creation of a stylized replica of the printing press of the Crnojevic printing house -production of technical documentation for making presses.
During next period UDG and ProDe team will work on preparation full elaboration for realization of the project.