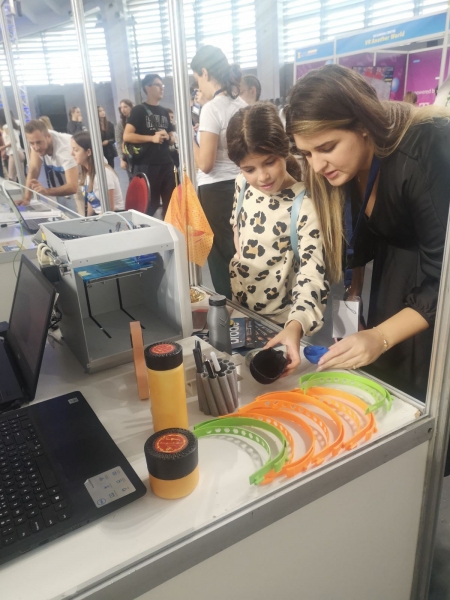 European night of researchers – SHAPE YOUR FUTURE
Wednesday, October 12th, 2022.
ProDe laboratory participated and contributed to celebrate science and the importance of scientific research in overall social development at the Festival of Science "European night of researchers in 2022". The festival was held on September 30th, simultaneously in over 200 European cities, and the slogan of this year's manifestation in Montenegro was "Shape the future" organized by Foundation for Promotion of Science PRONA and Natural History Museum of Montenegro. This Festival brings together young researchers and representatives of educational institutions, institutes, non-governmental organizations, companies, as well as independent researchers. The twelve-hour program, from noon to midnight, was dedicated to science and scientific achievements, as well as the changes brought by new technologies that dramatically change the world. Through experiments, interactive presentations, workshops, open laboratories, scientific panels, scientific lectures and excursions, young people had the opportunity to become familiar with scientific achievements. When it comes to ProDe laboratory, it was introduced to the visitors of the festival under the name "Build Your Future With 3D Technology" and was presented by the Lead engineer of the laboratory, Sara Djikanovic as well as students from the bachelor students at Faculty of Polytechnics.
During presentations, they pointed out the importance of ProDe laboratory for students of the University of Donja Gorica and also for the public users. They showed previous works done within the laboratory such as packaging for montenegrian honey, prototype of the bottle for the montenegrian yogurt, protective visors and many other 3D models which required the processes of 3D modeling, 3d scanning and 3D printing on FDM printers in ProDe laboratory. Visitors had the opportunity to see in person 3D printing of Eco pens which were printed on German RepRap Gmbh FDM printer using biodegredable plastic. It took about 5 hours to print 5 of these pens.
It has been shown that the Festival improves the scientific literacy of young people in Montenegro in an unconventional and effective way and successfully brings science closer to a wider audience, especially the younger population.
Bellow, we attach photographs from the festival.