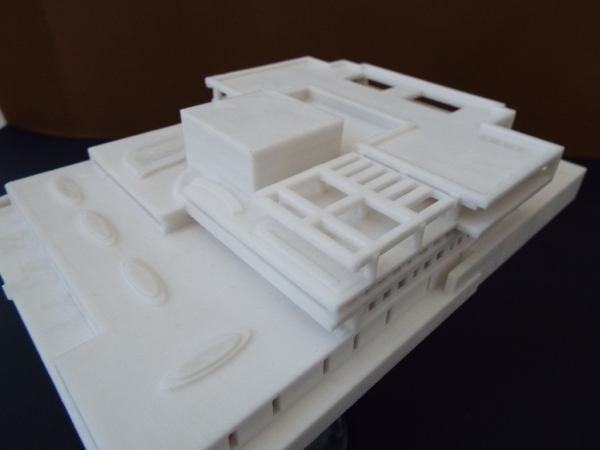 Polytechnics' students defended Diploma Thesis with 3D printed scale models
Wednesday, May 18th, 2016.
Four students defended Diploma Thesis in March 2016, with scale models, built in ProDe Lab.
3D printing is being integrated in the learning curriculum at UDG. In March 2016, four students from faculty of Polytechnics defended diploma thesis ''Conceptual architectural design of the Congress Center Millennium, Podgorica'', with scale architectural models built in ProDe UDG Lab. Printed models were single-piece blocks, printed in monochromatic mode, with approximate dimensions 30 x 30 x 30 cm. Printing time for each model was about four hours. Learning curriculum is further strengthen by the graduate course ''Theory and practice of product design'' and an ongoing workshop ''Augment reality''.
The topic of Diploma Thesis for undergraduate students of Polytechnic at University "Donja Gorica", is closely related to authenticity of the Capital City Podgorica. The area of the former military barracks "Moraca", in the heart of Podgorica, close to Millennium Bridge, represents one of the most valuable portions of land in our Capital City. On the bank of the river, meditating between Nova Varoš and the New Town, along the Boulevard Vako Djurović, this location patiently is waiting for "the right one" - Project that will generate the new, grandiose Congress hall.
Students are invited to clutch with this great challenge - overwhelming and provoking, which encourages creativity and breeds the opportunity for all their imaginative abilities.
Polytechnics' students defended Diploma Thesis with 3D models