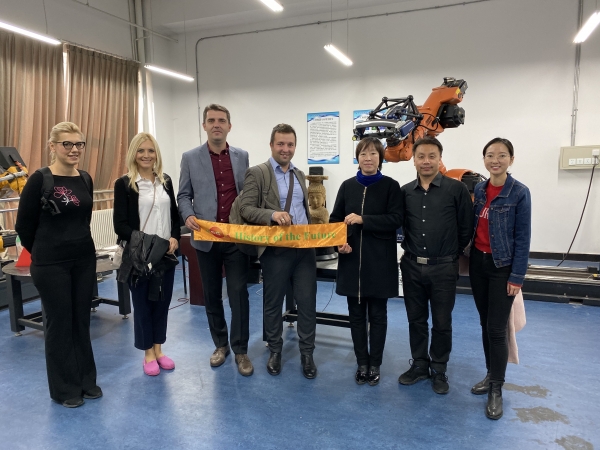 VISIT TO 3D LABORATORY AT THE BEIJING UNIVERSITY OF CIVIL ENGINEERING AND ARCHITECTURE (BUCEA)
Wednesday, December 4th, 2019.
On February 1st November 2019. Representatives of ProDe laboratory, as part of UDG Delegation China-Thailand, visited laboratories for 3D design and robotics, which is a part of Center for entrepreneurship and innovation at Beijing University of Civil Engineering and Architecture (BUCEA).
In laboratories of BUCEA were presented achievements in 3D product design and creation of their own 3D printers using robotic hands and most impressive 3D products, such as statue of Buddha. One of the largest 3D printer in Beijing is owned by BUCEA.
Apart from laboratories for product design there was also presented Laboratory for seismic research of the earthquakes.
The main aim of the visit was to improve cooperation within two 3D laboratories and participate in some new project proposals and research activities.
During the visit, the representatives met with Prof. Sun Zhi Juan, Director of the Center for Innovation and Entrepreneurship, and Mrs. Li Yang, from Department of International Cooperation, with the aim to discuss about:
Cooperation between the 3D laboratory at UDG and the Laboratory at Beijing University of Civil Engineering and Architecture through the exchange of students and researchers in the area of 3D product design.
Representatives of the University presented their facilities like laboratory with different kinds of 3D printers, industrial machines, etc. and also the new area for students who are working on their entrepreneurship ideas.
Collaboration between UDG and BUCEA started through The Memorandum of Understanding and will continue with a visit of their representatives to ProDe laboratory in the near future.