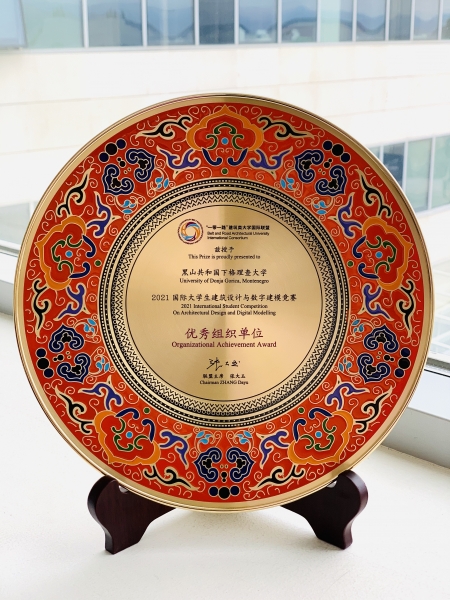 Organizational Achievement Award for participation in international student competition in China
Thursday, December 9th, 2021.
The team of undergraduate and postgraduate students of the Faculty of Polytechnics, University of Donja Gorica, under the mentorship of teaching associates, was awarded with the Organizational Achievement Award for participation in this year's competition within the international student competition in architecture and design organized by Belt and Road Architectural University International Consortium (BRAUIC), under the auspices of the Beijing University of Civil Engineering and Architecture (BUCEA).
The team of students, at the mentioned competition announced in March 2021, presented their project through the analysis and conceptual proposal of the revitalization of the urban design of the project at the location of Port Milena in Ulcinj. For the development of this project, the team used the capacities of the Laboratory for Product Design (PRoDe) at the University of Donja Gorica.
The competition attracted more than 500 lecturers and students from 34 universities and 13 countries. The huge number of submitted works is a proof of the growing attractiveness, cohesion and influence of BRAUIC and its strong role in promoting scientific, technological and educational exchange among architectural universities. The team is consisted of two mentors, Bojana Sternisa (MSc) and Semso Kalac (MSc), three postgraduate students, Arman Pepeljak, Sara Djikanovic and Aldijana Hodzic, and undergraduate student Tamara Mracevic.